We are a family-owned, full service, electro-mechanical repair facility. With 75+ combined years of experience, we rise to the most difficult of challenges. We repair and sell all types and brands of electric motors, pumps and related equipment. Our capabilities in the machine shop allow us to repair the most difficult of pumps and components. We have the equipment to properly rewind up to 250+hp electric motors. The attention to detail and the amount of pride and craftsmanship that goes in to each and every job is second to none.
Denise Moline - President/CEO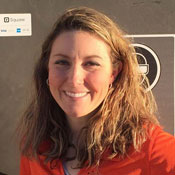 Denise Moline joined the Army Reserve in 1998 and became a Combat Medic. She earned her Bachelor's Degree from the University of North Florida in 2002. For the next 14+ years she worked for Specialty Marine & Industrial Supplies taking care of all aspects of Human Resources along with quoting sales, customer service, special orders, billing & collections. She is now the President and Owner of Moline Electric. Denise brings along her extensive knowledge and experience in the industry. In her spare time, Denise enjoys spending time with her family, gardening and painting.

Todd Moline - Vice President/Operator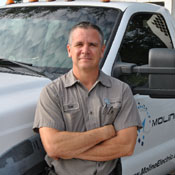 Todd Moline began his obsession with this industry upon his graduating high school, Duncan U. Fletcher. The first summer after graduation in 1990, he started work with Atlas Electric Motors. In 2000, he became Vice President of Industrial Equipment Services. From 2004-2014 he worked at Specialty Marine, building their electric motor and pump repair facility in 2008. Married with two children and two grandchildren, he spends time with family in his spare time.

Kris Moore - Shop Foreman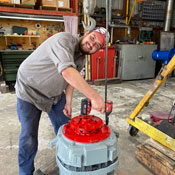 Working on his family's vehicles since he was old enough to hold a wrench, Kristopher Moore brings extensive mechanical knowledge to the lead technician position at Moline Electric. He has worked on and off with Todd Moline since being a Junior in High School. Landing mechanic jobs with BAE and MAETS has brought further knowledge to his growing resume. His passion for proper repairs on electric motors and pumps is second to none. He spends his free time playing with his two daughters when he is not racing motorcycles.

Shawn Sappington - Motor Winder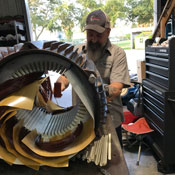 Shawn has been an Electric Motor Winder for eight years, perfecting the art of winding across the states, ultimately finding his new home in Jacksonville. He has been an experienced tradesman his whole life, starting from working on his family-owned Tobacco Farm while in high school in Missouri, to building boats, being a truck driver and becoming a Coal Miner. Shawn enjoys spending time with his wife, two rescue puppies and talking to his nine grandkids!

Jason Nardone-Hilliard - Shop Apprentice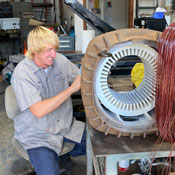 Jason started with Moline Electric in January 2021. Since that time, Jason has expanded his knowledge prepping motor rewinds and breaking down motors and pumps for repairs. In the future, he hopes to continue to learn new aspects of the field. In his spare time, he enjoys working out and meeting new people.

Donna Campiz - All Around Assistant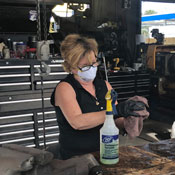 Donna Campiz is a former business owner. She and her husband owned a professional photography business for over 30 years. Donna brings her extensive knowledge in customer service and overall help in all areas of need. She helps in the office but her specialty is out in the shop helping her son in law Todd Moline. Donna enjoys spending time with her grandsons and her close friends.

Evan Moline - Shop Apprentice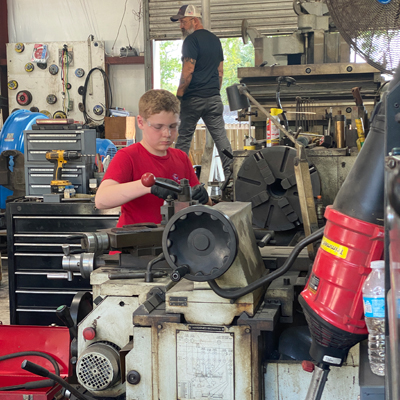 Evan Moline started as the shop mascot at the age of 3. He currently attends River City Science Academy Intracoastal and is a rising Seventh Grader. His duties include machine maintenance and maintaining an accurate inventory. He is also in charge of all recreational activities. In his spare time, he enjoys playing with his friends, pranking his parents and playing video games.